Melly Creations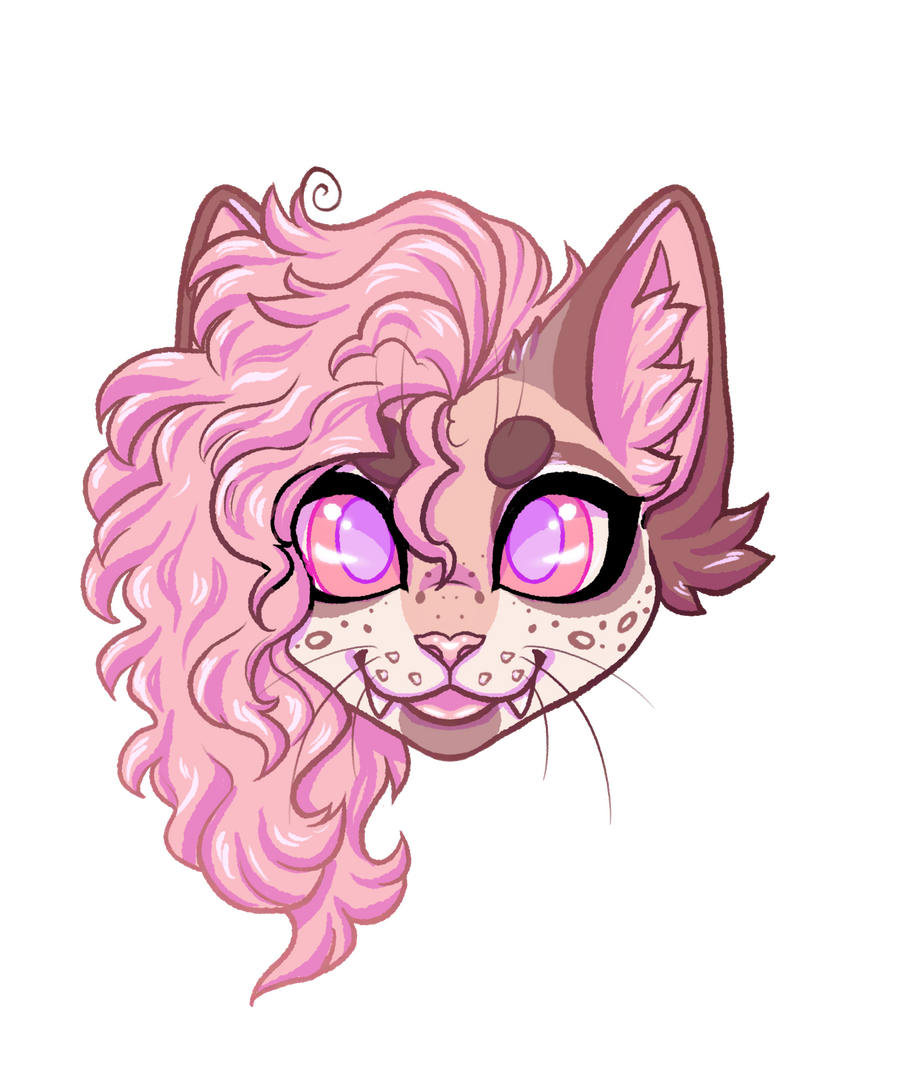 Eclypse Ramos
They/he/it
---
Artist

Fursuit maker

Crafter

Animal hobbyist

Jack of all trades but master of none lol
---
FURSUIT TERMS AND CONDITIONS OF USE
Please read these terms and conditions carefully before contacting us, or placing an order.
We reserve the right to modify terms, conditions, and notices on the Melly creations page. You are responsible for regularly reviewing these terms and conditions. By using, accessing, browsing through this site, or placing a commission, you indicate that you agree to be bound by these terms. This site and its contents are exclusive property of Eclypse /Melly creations. If you do not agree to these terms, do not use, access, or browse the site. Melly creations reserves the right to change, modify, add or delete a portion of all of these Terms of Use and Conditions at any time.WARNING
Please note that Melly creations is a company run by a single maker with varying volunteer novice apprentices so every product takes time and care to make,  also note that we do work from home, we live with multiple animals including cats in the house, we're careful to keep all such animals away from all products at all times but that does not mean there isn't a possibility of contamination so please be aware of this and don't commission if you have any pet allergies. Commission at your own risk.PREMADES
At this time Premades will not be refunded. if you are finding yourself in a financial situation after purchasing any premade, feel free to resell your premade and if we have not shipped it out to you yet we can go ahead and ship it to its new owner once shipping is paid for! Please be mindful of this and purchase Premades at your own volition.
Also, note most Premades will require full payment upfront unless otherwise stated on the sales post.AGE
All customers must be at least 18 years of age. By placing a commission or ordering any costume for sale on our site, you agree that you are at least 18 years of age or older. We do not, under any circumstances work with anyone under 18 with or without parental consent.QUOTES
Custom price quotes are good for the year given and expire at the end of said year. The amount of commissions we accept per opening is limited. Melly creations reserves the right to deny service to anyone. Quotes will only be given during openings only and will only be done through email and twitter (@furrymelons) at this time.WARRANTY
All work is guaranteed for 60 days, beginning upon the date the item is received. Any unauthorized alterations void the warranty. Defects in material and construction are covered by the warranty. Normal wear and tear is not covered by the warranty. Return shipping expenses are not covered. please contact us first before posting any review in order for us to fix any mistakes, false beware and malicious post of our items without proper communications will result in a blacklist.CUSTOM COMMISSION PAYMENT PLANS
Melly creations requires a 40% non-refundable down payment on full partials and up to guarantee a custom commission. (This down payment is for material costs) Final payments must be received by the beginning of the month prior to the completion month. Late payment will result in a later completion date or a canceled commission. We accept credit, debit, through the square system, as well as through PayPal. We do not accept personal checks. We are not responsible for late payments.
We implore that you are able to pay your invoices on time and contact us if anything comes up in which you cannot pay on time! after 3 days of warning for late payments, we will cancel the commission, modify it and resell, only payments outside the 40% will be refunded40%down payment only applies to a full suit, 3/4ths,full partials, and partial commissions. Heads and parts require full payment upon commission. No refund shall be issued of this 40%down no exception, so plan accordingly to spend the money, by commissioning us you have agreed that you have read this TOS and agreed to it completely. PayPal disputes ending with money being forcibly taken back will end with you being blacklisted and a beware being placed on you.
A friendly reminder: If you can't afford to spend money on a fursuit because of bills don't spend the money in the first place.Again We implore that you plan ahead, we are not a bank for you to request money back due to your incompetence on being unable to budget for your fursuit.REFUNDS
Please allow Melly creations some time to issue your refund when applicable, as this is a sole income money received is used to pay for bills and we will need time to find someone to replace your purchased slot. We do not normally use the money right away but as our sole income we can only do so much.SIZING
We require all customers purchasing full-suits or 3/4th suits to complete and send us a duct-tape dummy. A step-by-step tutorial on YouTube by mischief makers or sky high studios should be followed. Failure to follow the directions on the tutorial properly can result in the costume not fitting correctly. Incorrectly made duct-tape dummies may be returned and you will be asked to remake them. The better the duct-tape dummy is, the better the suit will fit.
If you are planning on growing, losing or gaining weight, or otherwise changing your body shape, wait to make the duct-tape dummy until after you have completed your physical change.
We will keep future body changes in mind at your request. For example, if you plan on gaining weight after the suit is made, we can make the body larger than your current body size. The tighter the costume fits, the less range of motion you will have. The looser the body fits, the more range of motion you will have.
the longer it take for a duct tape dummy to be received the longer the commission turn around time will be.LAST MINUTE CHANGES
We ask that you do not make any changes to the character design once the price and estimated completion date is set. Any changes made after that can cause the price or estimated completion date to change. We will work with you to review all the details before the commission is accepted.
If changes must be made to the suit during the making process we will be charging extra for material as well as time consumed to make the change. rates start at $100.WORK-IN-PROGRESS PHOTOS AND UPDATES
We do offer work-in-progress photos, but we will send them when we are able and only when there is more notable progress made. We will be happy to review any details beforehand to ensure you end up with a costume that you are completely satisfied with.
We update our twitter semi-frequently with whatever we are working on at the time, so be sure to follow us there for the most up-to-date information.SHIPPING
Shipping is not included in the price for commissions. We will ask for postal information before starting your commission to give you proper pricing! We ship with USPS and will provide tracking info upon delivery to the post office.
Please note that most shipping for international order can be over $100 USD so plan accordingly. we can roughly calculate shipping when asked for a quote but please be aware that final shipping can greatly vary by quite a few dollars. shipping should be ready to be paid on the completion day in order for shipping money not to be compromised by any subscriptions or surprise auto billing.CONCEPT ART
Melly Creations requires a clear concept art for a quote, for a custom commission. For more information, please email us at our email we provide at the bottom of our TOS. The final product will be made based on the general concept of the art. Small differences may be present as the final size and shape of the costume will most likely be slightly differently shaped than the concept art. Melly creations is not responsible for including anything that is not present on the agreed-upon concept art. if you do not have any concept/ reference art feel free to commission us for one before hand!CONTRACT
Anything agreed upon by both parties in writing, including email, is a binding contract. By accepting a commission from Melly, you agree upon all terms of service. Melly stores digital copies of all communication for our records.USE AND PAGE CONTENT
All images and content belong to Eclypse/ Melly creations
Except as stated below, the contents of this page may not be copied, reproduced, uploaded, sold, distributed, displayed, downloaded, posted or transmitted in any form without prior expressed written permission by Furry Melons. Modification of the content or use of the content for any other purpose, on any other web site or networked computer environment, is prohibited.
You may print and download to a computer, disk, or electronic device, any content for the purpose of private and non-commercial use.
We reserve the right to take and use photos of any costume that we have made, including posting photos to this page or any website, as long as we made the costume, or any part of the costume, and have taken the photo, own the photo, or have permission to use the photoNOTICE
It is the customers responsibility to seek out or ask for this TOS before starting a commission with our company it is not Our responsibility to remind our customer to read our terms of service this should be something that the customer takes responsibility to seek out and read for themselves before any commission is commenced, Lack of knowledges is not an excuse for not reading our TOS.
We do not give out any personal information.
Please mail [email protected] if you have any questions
you can also follow our twitter and message us there for any information @Furrymelons
Thank you for reading!________________________________________
Art Terms and conditions
- Payment plans are only available for purchase >$200. Please contact me if this is the case.
- Commissions will only be accepted from people that are 18+ for legal purposes (we can work with parents or guardians.)Full-color Refund policy
Not started: 90%refund
Sketch: 40% refund
Flat colors: 10% refund
(Any intermediate process will be identified as the latter in the list, for example, if I started shading, you would receive no refund since shading is past the flat-color stage.)Flat color refund policy
No started: 90% refund
Sketch: 40% refund
Line art: 10% refund- I accept refund requests, please email me as soon as you decide to cease commissioning me to avoid additional costs.
- Refunds are based on my self-assessed progress, whether I have sent you wip's (work in process) or not.I can edit the sketch/palette slightly upon request, if my email/ message about the sketch is not replied to within 24 hours, I will simply move on with what I haveCreditingPlease credit me if you use the commissioned piece in your profile/upload to other sites (preferably with a link back to my profile), and DO NOT claim the art as your own!- You are allowed to use your commissioned piece for personal use, i.e. desktop background, phone background, profile decoration, icons etc. with proper credit but any commercial use is not allowed. If you are using my art for such uses, please contact me personally before I start with your commission for discussion on additional pricing. (prices begin at $500)
- You could add your own watermarks as long as the piece is still properly credited- I reserve the right to post the piece on any of my blogs and as commission/art examples, if you want the commission to be 100% confidential and the art at your charge only, I will be charging a fee, and will not be posting the art anywhere, please contact me personallyTimeframe of completion
- Generally I will try to finish my commission within 2 months after commission is accepted,
but
- I reserve the right to delay your commission because of personal issues I have to deal with in real life, and if I feel unable to finish your commission due to reasons such as
a) sickness/injury
b) technical problems (such as tablet problems or computer breakdown)
c) long term activities (such as training programs) and
d) other severe life issues
I or others will be contacting you to cancel the commission and I will give full refunds
(though me having to cancel rarely happens)
Feel free to contact me for updates on progress through email or means described in the "Contact" section.Payment Policy
Upon the approval of the commission You ,the commissioner, will need to pay for the commission, in full, before any work can commence, with commissions $200 and above a payment plan can be established.Other
- Please only use your commissioned piece, and not use/reupload any other art from me unless specified as "free to use" or with my permission
- Heavy editing is not allowed without prior knowledge, please let me know beforehand and have my agreement. Crediting is still needed.
- If I see you fail to follow my terms, I will send you a warning email, if my warning is not regarded properly, you will be rejected to any of my future commissions/trades/collabs/giveaways/raffles/etc. Serious infringement (art stealing, tracing, severe editing without prior knowledge) will possibly result in my reporting.
- I reserve the right to reject commissions if I feel the content is not proper or I don't feel like taking it.
Please confirm that there is no mistake in the commissioned piece (key designs, etc.). after commissioner has confirmed that the piece is correct, not editing shall be done, after completed piece, if something needs to be changed I will charge extraContact
I can be reached through one of the following emails/ social medias
Twitter: @furry_melons
[email protected]General info about my art
Personal Don'ts:
- Characters with offensive design elements
-hate art
-hateful or offensive subliminal imagery
-specific triggering imagery
-specific taboo topics (ask first)* Canvas sizes will vary
please specific canvas size for specific media
Art Prices!
Must provide ID for any NSFW
Chibi prices
Sketches :$25+
Flat color: $45+
Full color: $75+
Normal style
Sketches :$45+
Flat color: $80+
Full color: $120+
Lineless art
Flat color: $100
Cell shading: $150
Realism
Black and white: $300
Full color: $500
Ref sheets
2 view :$45+
Fursuit 3 view: $80+
Delux ref: $120+
Merch
Base work with commercial rights: $500
Badges
Digital :$60+
Traditional: $80+
Customs
Single on F2U base: $40
Single on P2U base: $75
Ref sheet on base: $100
Full custom: $120
Fursuit Prices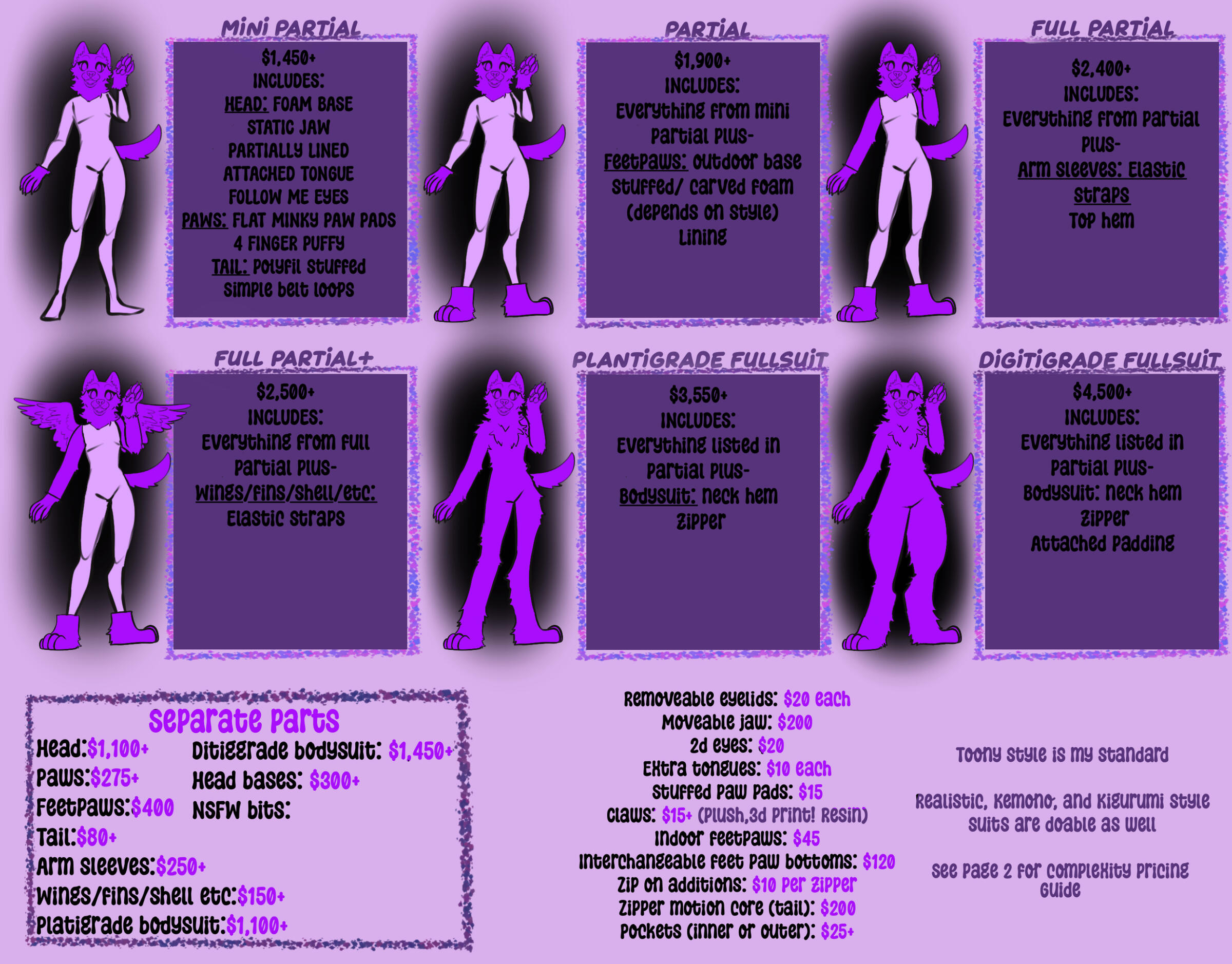 Sketches
Flat colors
Full colors
WARNING
THIS SECTIONS IS NOT SAFE FOR WORK BY CLICKING ENTER YOU AGREE THAT YOU ARE 18 YEARS OF AGE OR OLDER.
This page contains the following themes enter at your own riskContains
nudity
Suggestive themes
Sexually explicitly content
images of violence
images containing blood
other content that may be upsetting or triggeringYou have been warnedClick enter if you wish to continue.
This section contains variations of nsfw content in variations of art types like sketches full renders etc.These are not separated by category.